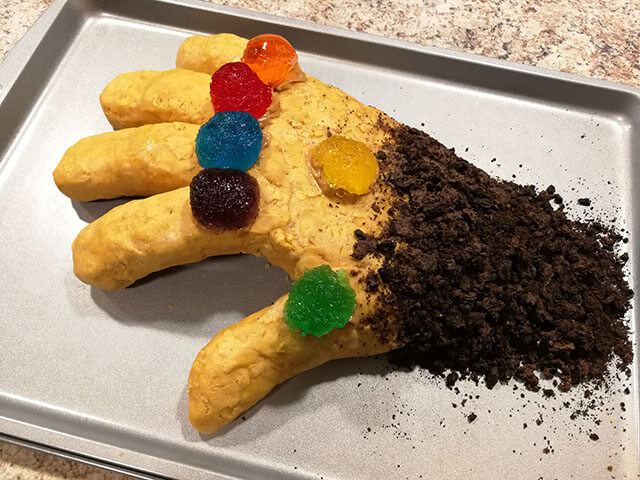 My birthday in 2018 came not long after the release of the hotly anticipated Avengers: Infinity War, and memes relating to the "snap" and turning to dust were flying all over, so I had the idea to recreate the Infinity Gauntlet for my birthday dessert project and have it crumbling into dust.
The gauntlet itself was peanut butter fudge (which I had never made before; also, full disclosure, I added a bit of food coloring to make it a touch more golden). The gems were lime, grape, blue raspberry, strawberry, orange, and lemon Jell-O, held in place with peanut butter. I tried making the Jell-O a little more concentrated and getting it particularly cold, but a couple gems still got a little bit damaged while being transferred to the gauntlet. The dust is crushed Oreo cookies (technically store brand, but I do not know the generic name for that type of cookie) with a bit of chocolate cream for structure.
Yes, that means afterward I was left with a bunch of cookieless cream, and yes, I did make ultra-stuf Oreos with it.