As with last year, I know Spotify Wrapped happens at the beginning of December (and stops collecting data earlier), but I wanted to get my top played songs for all of 2022—most notably because there was some new music I only got at the end of the year.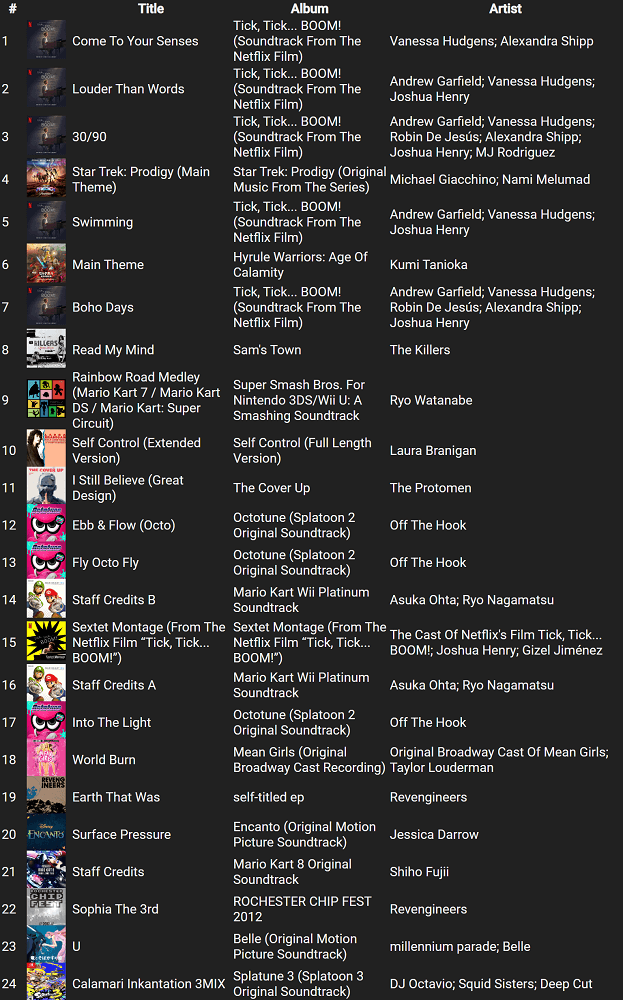 As always, I enjoy doing this for all the interesting ways it can confirm or disprove my assumptions, and I also found it interesting to compare to last year's to see what has changed.
Some miscellaneous observations include:
I am not surprised Tick, Tick...BOOM! did well. I was initially surprised "Come To Your Senses" beat out "Louder Than Words" and "30/90", but then I remembered the former is on my playlist for listening to while falling asleep, while the latter is (for obvious reasons) not.
The Star Trek: Prodigy theme is my favorite new Star Trek theme since the '90s, but I was still surprised it made it to the top 5!
The only reason the Age Of Calamity theme wasn't in my top 100 last year was because I had not added it to my library yet.
(Ditto "Read My Mind" and the Smash Bros. Rainbow Road medley.)
I think I expected at least one song from Belle to beat the Mean Girls musical since I remember enjoying the music from the former more (not that I don't enjoy "World Burn").
I am not surprised the Protomen cover of "I Still Believe" ranked highly. I have no idea why I did not listen to The Cover Up much before this year despite having it in my library, but it is really good, and that was easily my favorite track from it this year.
I am also not surprised Splatoon had some good representation with Splatoon 3 releasing this year, and it will likely get a bit of a boost in the coming year if we get an official Splatune 3. I was surprised "Fresh Start" made not only the top 100, but the top 50, beating out even "Calamari Inkantation"!
I was not surprised my top 10 last year were not the same as my top 10 this year—I knew I listened to them less than I did in 2021—but I was surprised by how far some fell. I was not surprised to see "Paralyzed" bumped down a little (I like it, but I was surprised it made #1), but I was very surprised "Keep Coming Back To The Start" did not make the top 100 at all this year, and a bit surprised to see neither did "White Rabbit" or "White Woman's Instagram". And just as shocking, "Inferno" somehow dropped from #5 to barely hanging on at #100!
I also expected Sarah & The Safe Word to fare better since I did not think I listened to them significantly less than 2021. In particular, "The Louisville Shuffle" did not make the top 100 at all despite making it to #15 last year.
Possibly the top reason I wanted to do a full year Wrapped instead of just through December 1st was I saw Six in December and got very into the soundtracks (UK Studio Recording and Live Broadway Recording). I was curious whether any of them made the top 100 in that time, but only "Don't Lose Ur Head" did.

Incidentally, I checked my top 100 for just December, and Six held all of the top 9, and 16 of the top 20!

No matter when you cut it off, though, some album is going to get the short end of the stick. Hadestown did not fare too poorly last year, but it probably would have done better if I had not seen it in November, splitting its peak listens between the end of 2021 and the beginning of 2022. By contrast, while I did listen to Tick, Tick...BOOM! more overall, it also benefited from its peak listens being in January.
Once again, I expected more mashups to rank higher.
There continues to be no good way to automate generating alt text for these screenshots.
Also posted to Facebook, Instagram, Mastodon, Tumblr, and Twitter.